Celebrate butterflies and other pollinators with a day of family fun and educational activities during the annual Flutterby Festival at the Village Arboretum, Pinehurst, September 25, 2021, from 11 a.m. to 2 p.m.
Presented by the Village Heritage Foundation and the Village of Pinehurst, the event promotes pollinator habitats. In addition, it supports active efforts to conserve the monarch butterfly and all other pollinator species.
Completed in 2020, the 10,000-square-foot Native Pollinator Garden, located in the Village Arboretum, includes native flowering perennials, pollinator host plants, walkways and the Pollinator Pavilion.
"Flowers, bees, and butterflies fill our world with beauty and are an enduring symbol of hope," says biologist Beth Franke Stevens, president of the Village Heritage Foundation. "This garden offers us lessons on how to appreciate and participate in the preservation of the natural world outside our front door."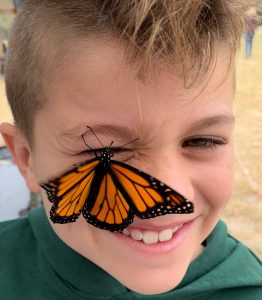 The event features nature-based educational and fun demonstrations and programs. Learning activities include presentations on the lifecycle, migration, and plight of the monarch butterfly. Live caterpillars, chrysalides, and butterflies offer an understanding of the monarch butterfly's transformation. The Magical Monarch Butterfly Tent provides an opportunity to interact and feed hundreds of newly-emerged monarch butterflies. Later, visitors may tag and release adult monarch butterflies in time for the insect's migration to Mexico.

A friendly monarch butterfly captures the attention of Jaxon Nelson at the Flutterby Festival in 2019. (Courtesy: Sarah Nelson)
Additional activities include:
Butterfly arts and crafts
Tours of the Native Pollinator Garden
Discussions on native plants
Information on creating a backyard pollinator garden
Enjoy live music provided by musicians from the Carolina Philharmonic. Refreshments are available for purchase from food trucks. The Flutterby Festival is family-friendly and free. Dogs must be leashed and are not permitted in the exhibit tents or tagging area.