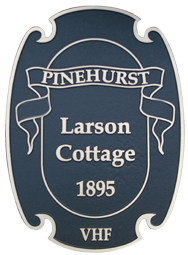 The mission of the Historic Plaque Program is to encourage the recognition, preservation and restoration of the historic buildings of Pinehurst, to encourage the recording of Pinehurst's unique history, and to make that history accessible to the residents of, and visitors to, Pinehurst.
Each year, our Historic Plaque Committee will select a limited number of properties to receive a unique plaque to recognize their special role in the history and development of Pinehurst. Candidates for the award may include residences, commercial, institutional, and public buildings.
The Historic Plaques will be presented each year in a ceremony similar to a "hall of fame induction" at the historic Fair Barn.
Generally, a building should be ninety years old to be a candidate to receive the Historic Plaque.  When preparing their applications, applicants are encouraged to visit the Tufts Archives and incorporate relevant information therefrom.  Applicants are also encouraged to engage in original research, identifying and describing historic, social or cultural aspects of their properties which are not already included in the Tufts Archives.  Other criteria that will be considered include:
Architectural integrity….the extent to which the original architecture of the building has been retained or restored.
Role in the historic, social and cultural development of Pinehurst
Special or unique architectural characteristics
Association with iconic Pinehurst personalities
Further, we hope that this recognition may inspire owners of historic properties to preserve and restore their own buildings. The Historic Plaque is purely honorary and does not imply any development or construction restrictions on the property or any tax advantages.  Anyone serving on the Historic Plaque Committee may not receive a plaque for their home while they serve on the Committee.
(c) Property of the Tufts Archives
The public is invited to nominate buildings that they think deserve an Historic Plaque. Nominations for the 2023 class of honorees will open on March 1, 2023 and close May 1, 2023..  Please follow this link to utilize the online nomination form or to download a printable version.
---
Historic Plaque Program Committee Members
Laura Byers
Jill Gooding

Lisa Hammond

Mallory Hickey
Page Klumpar
Lorelei Milan


Audrey Moriarty, Advisory Member
---
2022 Recipients:
| | |
| --- | --- |
| Retreat Cottage 1895 | Ideal House 1925 |
| | |
| Blackjack Cottage 1922 | |
| | |
2021 Recipients:
| | |
| --- | --- |
| Muster Branch 1922 | Pine Grove House 1895 |
| | |
| The Theatre Building 1922 | |
| | |
2020 Recipients:
| | |
| --- | --- |
| The Magnolia Inn 1896 | Village Chapel 1924 |
| | |
| Merrimac Cottage 1919 | Garran Hill – Hollycrest 1916 |
| | |
2019 Recipients:
| | |
| --- | --- |
| The Pines 1929 | Holly Tree Cottage 1922 |
| | |
| Elm Cottage 1895 | Palmetto House 1895 |
| | |
| The Casino Building 1896 | Pinecrest Inn 1913 |
| | |
2018 Recipients:
| | |
| --- | --- |
| The Oaks (1895) | Mystic Cottage (1899) |
|   | |
| The Pinehurst Garage (1923) | Dogwood Cottage (1896) |
| | |
2017 Recipients:

| | |
| --- | --- |
| The Harvard Hotel (1901) | Red Gables (1909) |
| | |
| Vista Cottage (1916) | Thistle House (1916) |
| | |
| Rassie Wicker Cottage (1923) | The Old Rectory (1927) |
| | |
2016 Recipients:

| | |
| --- | --- |
| Sandhills Woman's Exchange (1810) | Rose Cottage (1895) |
| | |
| Craddock Cottage (1896) | Cottage Colony School (1917) |
| | |
| Halfway House (1919) | Liscombe Lodge (1927) |
| | |